Welcome to your Nova Evo Experience
If you're installing Nova Evo for the first time, we'll guide you through the process to ensure that your application experience and installation result reflects the capabilities of this innovative coating. Even if you have prior experience installing ceramic coatings, we highly recommend reviewing this guide.
before we begin, A Note about performance
While employing our decontamination and maintenance formula lineup is the best way to ensure optimal performance and proper bonding of Evo with your clear coat, we understand that you may be using products outside of our range to complete paint preparation steps.
We will do our best to address which types of products may interfere with the application or chemical bonding process, but please note that we cannot guarantee optimal results with products that we have not tested in conjunction with Evo.
01 WASH
Using Snow Plus and a quality wash mitt/pad, thoroughly wash the surface and take care to rinse thoroughly. Dry the vehicle with forced air and/or a quality microfiber towel.
Do not use 'Wash and Wax' or 'Wash and Gloss' shampoo solutions as they often contain silicones or other fillers that will interfere with the following process.
02 REMOVE FALLOUT
With the vehicle dry and out of direct sunlight, spray Purify or a quality fallout remover liberally. With Purify, allow it to dwell for 4-5 minutes. Use quality detailing clay and Purify as a clay lubricant to thoroughly clay the surface, ensuring full coverage. This is a crucial step in ensuring Evo properly bonds with your clear coat.
03 POLISH TO REMOVE PAINT DEFECTS

*
If paint defects are present, use a quality polishing machine and pads along with Precision and/or Finesse to remove defects to your satisfaction.
*If your vehicle's surface has been protected with a prior ceramic coating, the compounding step is obligatory and vital to ensure the bonding of Evo with your clear coat.
04 REMOVE POLISHING OILS AND RESIDUES
Spray Clarity directly and liberally onto the surfaces to receive Evo. Immediately wipe it away. We do not recommend using isopropyl alcohol as Clarity contains additional surfactants which emulsify and remove oils and residues.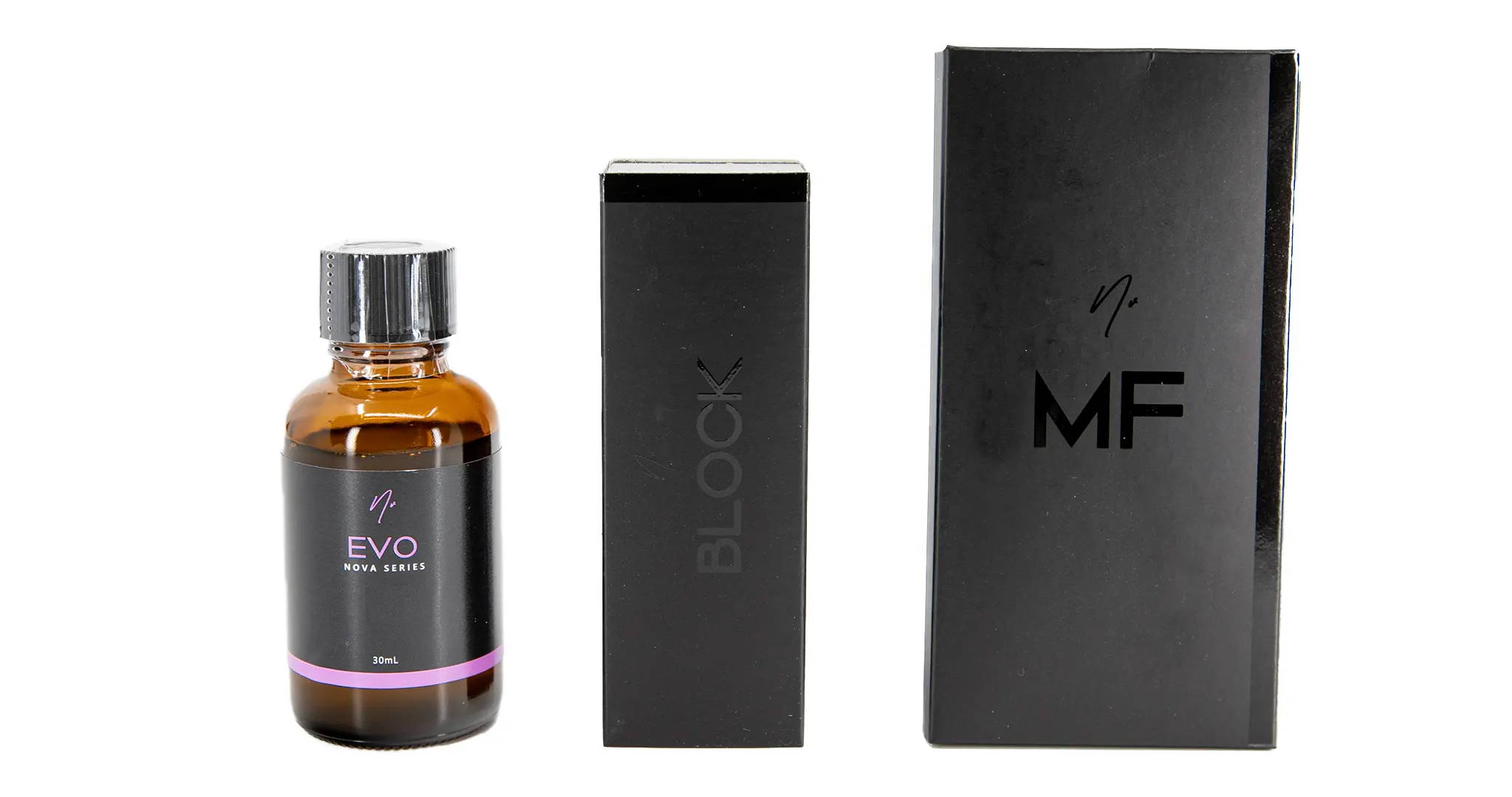 Open your Nova Evo Kit. The kit will contain:
(1) Nova Evo Formula (30ml)
(1) Foam applicator block
(1) Suedecloth applicator


*Due to production and availability limitations, some foam applicator blocks and suedecloth applicators may not be shipped in the black packaging shown above. Nonetheless, all Evo kit contents are the same.
PRIME THE APPLICATOR
Wrap the suedecloth applicator around the foam block. Open Evo and drag the orifice of the bottle across the length of the suedecloth applicator (as shown above), dispensing a generous amount of coating onto the applicator. This will prime the applicator for use.
APPLY EVO IN STRAIGHT LINES and 2x2ft sections
Using overlapping motions, dispense Evo onto the surface ensuring even coverage. We recommend working in 2FT by 2FT sections. It is not necessary to put pressure on the applicator block.
If you are working in a hot or humid environment (over 75F/24C), wait approximately 30 to 45 seconds to begin leveling (wiping) Evo off of the surface after applying a 2FT by 2FT section.
If you are working in an environment with a temperature below 75F/24C, it is permissible to wait approximately 1 minute before leveling (wiping) Evo off of the surface. Do not let Evo dwell on the surface for more than 90 seconds as there is a risk of product prematurely curing (high spots).
GENTLY LEVEL (WIPE) EVO OFF OF THE SURFACE
After allowing Evo to begin bonding with the surface for the requisite amount of time (as noted in the previous step), use a quality, low-pile microfiber towel to begin wiping Evo off of the surface. Little pressure is needed to level the coating. Ensure to wipe the areas outside of the 2FT by 2FT section you just completed to avoid the coating being pushed to adjacent surfaces by the microfiber towel. Move on to your next section and repeat until Evo has been applied to all desired surfaces.
It is not necessary to apply an additional layer for optimal performance. Nova Evo is designed to perform fully with just one layer. The application process is now complete.
POST-APPLICATION CURING NOTES
THE FIRST 12 hours
It is highly recommended to apply Nova Boost approximately 12 hours after the application of Nova Evo. Boost contains trace amounts of select chemical compounds found in Evo, and will aid in Evo's curing process. Do not use any other spray sealants or coatings at this time.
Do not allow Evo to be exposed to water in the first 12 hours. This will inhibit Evo's ability to bond fully with your clear coat, hindering its performance.
THE FIRST 7 DAYS
Do not wash the vehicle for 7 days following your Evo application. Beyond 7 days, you may wash the vehicle normally.
THE FIRST 7-14 DAYS
Full curing and coating hardness is achieved in 7-14 days. With professional infrared (IR) curing lamps, full curing and coating hardness is achieved in approximately 1-3 days.