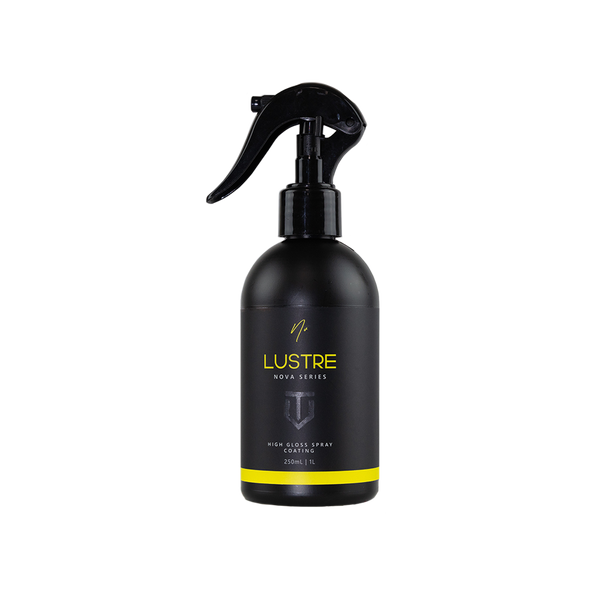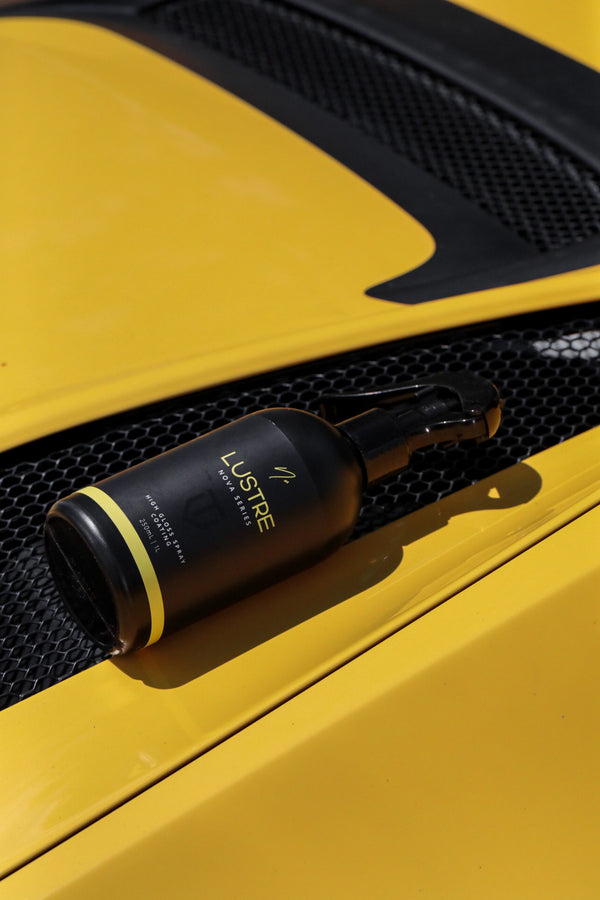 A simple to use & durable spray coating that will unlock immense gloss, whilst filling minor clear coat imperfections.
About LUSTRE
Nova Lustre is a unique spray coating that creates sharp reflections, epic levels of gloss and the ultimate metallic gloss whilst creating an ultra-slick, protective layer on the surface. 
This unique blend of SiO2 focuses on enhancing the paintwork, increasing the saturation & clarity of colours and shades. It also has a unique resin that allows Lustre to fill in minor swirling & haze on all paint types. 
Lustre doesn't just excel at aesthetic transformation, it also provides excellent protection, resisting harsh environmental contamination, UV rays and provides great self-cleaning properties with an impressive hydrophobic effect. All of these great features will last up to 6 months. 
Features
Stunning depth & paint saturation
Impressive slickness
Intense water shedding abilities

Fills minor defects such as swirls & 'love marks'
Up to 6 months durability
Usage of approximately 25ml per application
Boutique Wax or Lustre?
A fine carnauba wax can give you that illusion of the wet look and has such a unique shine. We don't discriminate against waxes; we love what they have to offer visually and they were part of our journey in the past. This is why we spent so much time trying to create a product that looked similar while providing many other benefits. Lustre is slicker, more durable, easier to clean, much easier to apply and more environmentally resistant than most boutique waxes.
What is Nova?
NOVA is a group of formulations that protect and enhance surfaces on your vehicle. They are based on the very latest frontier of Sio2 technology. Simply put, they are supercharged synthetic waxes. Unlocking new levels of gloss, durability, resistance and protection for your vehicle. The spray coatings are all incredibly easy to use and boast fantastic performance. Using only 25ml per application, they have a level of cost performance that can't be beaten. 
Application
Spray directly onto the surface or onto a dry or damp quality microfiber cloth

Work into the area applied, take your time and make sure you apply right up to the edges

Wipe off with a clean side, or separate cloth. Low nap microfiber works the best (Other side of a 4seasons cloth)

If you are experiencing hazing on wipe off (as on some protective products it can take longer to adhere) wait 20-30 seconds before your second dry wipe.

Allow 2 hours for curing
View MSDS