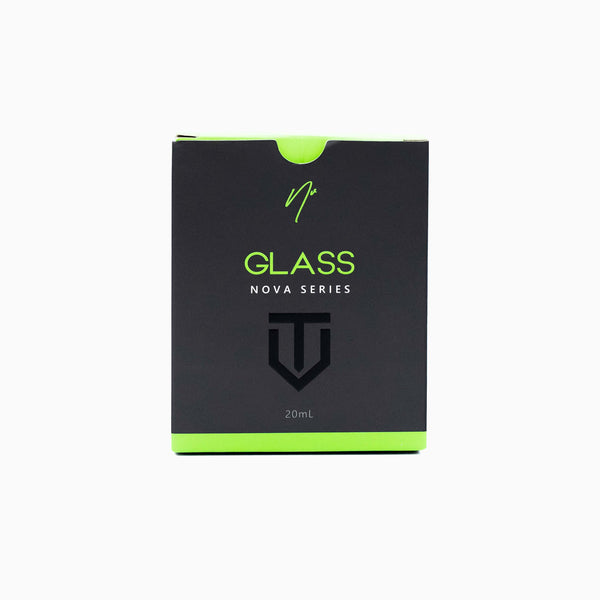 An ultra-hydrophobic ceramic coating made specifically for glass & windscreens. Forget your wipers, and watch water fly off your glass.
Important Bottling Note as of January 2022
Due to bottling supply constraints, Nova Glass will be bottled in a 30ml container. Because the product is dispensed as 20ml for full coverage and performance, your coating bottle will appear to be 66% full, when in fact the entire 20ml are present. We are exploring alternative bottle solutions, however this will be a normal practice going forward and is not cause for concern.
About GLASS
Nova Glass is a unique ceramic coating that has been designed specifically to fuse with glass surfaces, creating a bond that is stronger than traditional coatings. Due to this fusion, Glass holds up much better to abrasion from windshield wipers.

When driving, water droplets start flying off due to its ultra-hydrophobic nature. Your glass also stays cleaner for longer, increasing visibility and reducing maintenance.
Features
Anti-glare
Simple application
Ultra-Hydrophobic
Decreases the need to use windshield wipers
High environmental resistance
2-year+ durability
Application
Ensure glass has been properly prepared & decontaminated
Make sure there are no oils & residue on the surface before applying using Nv Clarity
Apply 3-4 drops onto your suede applicator and work the product in a 40x40cm - applying up & down, and then side to side for complete coverage
Wait 5-10 minutes before wiping off any residue and leveling the coating
Make sure you don't overlap areas the best you can when applying

We generally recommend avoiding the use of windshield wipers for 24-36 hours and avoiding driving in the rain for the same period of time, if possible. With regard to maintenance washes, it's generally best to wait 5-7 days before introducing shampoo or cleaning agents to a freshly applied coating.
View MSDS