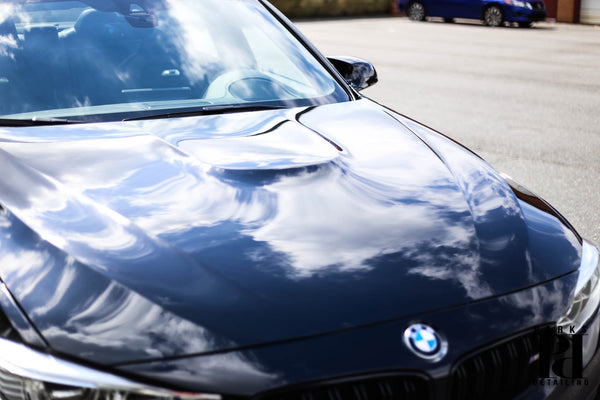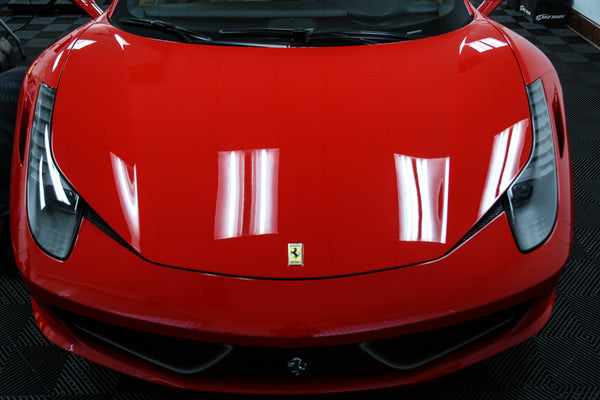 Our most revered spray coatings, now offered as a one-two punch for maximum gloss, paint saturation, and stunning hydrophobic abilities.


About JET
Nova Jet is our signature spray coating that really propelled the development of the latest NV formula range. Jet features incredible gloss whilst creating the ultimate hydrophobic effect on automotive surfaces.
When Jet is applied to a surface it becomes so much easier to maintain, whilst also looking fantastic for longer. This is because dirt, contaminants & grime struggle to adhere to the super slick coating - prolonging your washes and keeping your car looking it's best. 
When you do go to wash your car, maintenance is just so easy. It won't take much to shift any dirt & grime, and its intense water-beading effect makes washing, rinsing and drying almost effortless. 
About LUSTRE

Nova Lustre is a unique spray coating that creates sharp reflections, epic levels of gloss and the ultimate metallic gloss whilst creating an ultra-slick, protective layer on the surface. 
This unique blend of SiO2 focuses on enhancing the paintwork, increasing the saturation & clarity of colours and shades. It also contains a unique resin that allows Lustre to fill in minor swirling & haze on all paint types. Light defects can be masked, producing even greater depth and reflectivity.
Lustre doesn't just excel at aesthetic transformation, it also provides excellent protection, resisting harsh environmental contamination, UV rays and provides great self-cleaning properties with an impressive hydrophobic effect. Lustre only requires 25ml of product per application, and all of these properties will last approximately 6 months, meaning a 250ml bottle is good for nearly five years of extreme gloss & protection.
Features 
Consistent and durable UV protection

Excellent resistance to environmental contaminants

A stunning combination of gloss, depth and color saturation
Creates a slick, low-tension surface environment

Extreme hydrophobic behavior
Approximately 6 months of combined durability
25ml per application of Jet + Lustre; both 250ml bottles last approximately 10 vehicles or 10 applications
What is Nova?
NOVA is a group of formulations that protect and enhance surfaces on your vehicle. They are based on the very latest frontier of SiO2 technology. Simply put, they are supercharged synthetic waxes with the added benefit of ceramic coating chemistry. Unlocking new levels of gloss, durability, resistance, and protection for your vehicle. The spray coatings are all incredibly easy to use and boast fantastic performance. Using only 25ml per application, they have a level of cost performance that can't be beaten.
Application of Lustre (First Step/One Layer)
Spray directly onto the surface or onto a dry or damp quality microfiber cloth

Work into the area applied, take your time and make sure you apply right up to all panel edges

Wipe off with a clean side, or separate cloth. Low-pile microfiber works the best 

If you are experiencing hazing on wipe off (as on some protective products it can take longer to adhere) wait 20-30 seconds before your second dry wipe.

Allow 2 hours for full curing before applying Nova Jet
Application of Jet (Second Step/One Layer)
Spray Nova Jet onto a clean microfiber cloth, or the surface of the vehicle. The surface can be wet or dry.
Wipe on with a clean, quality microfiber cloth (lower-pile microfiber works best here)
Lightly buff off the residue with another clean microfiber cloth
Important Application Notes
In your pre-application washing process, do not use shampoos dubbed as "wash and gloss" or "wash and wax" type products - they will leave a film or residue on your paint which will negatively affect Lustre & Jet's ability to bond with your paint

Using a proper oil/residue remover such as NV Clarity prior to application ensures maximum durability and hydrophobic behavior
Allowing Nova Lustre to cure for a minimum of 2 hours prior to applying Nova Jet is necessary to achieve maximum performance and durability